The Card People
The Card People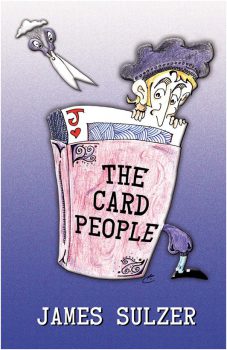 $12.99
$4.99
$4.99
by James Sulzer
This middle-grade adventure novel by Nantucket author James Sulzer will rivet young readers with its vibrant blend of science fiction and the challenges of coming of age in a diverse world.
Paul Kapadia's father, a genius scientist from India, is doing cutting-edge research at MIT into nanotechnology when he suddenly disappears. Then strange things begin to further disrupt Paul's life. Paul's mother is the victim of a hit-and-run accident; one of Dr. Kapadia's colleagues shows up too often at the house; and Paul notices that a deck of cards he and his father used to play with is moving around on its own. Soon the card people present themselves to Paul and plead for help in their battle for survival against the brutal scissors people. With the help of his younger brother Sam and an old friend Nim, Paul begins to unravel the world-shaking secret behind the card people's existence. Finally understanding his father's desperate efforts to preserve a potentially dangerous technology for peaceful use, Paul resolves to pursue the quest his father has left unfinished.
The Card People charts a journey into the unknown, deciphering mysterious acronyms and anonymous e-mails and dramatizing the possibilities of nanotechnology with exciting clarity. It is accompanied by an extensive Reader's Guide and Study Guide, which open topics from "new life forms" to "people who are seen as different."
This is the first volume of a trilogy.
James Sulzer Dishes on The Card People
Hear James discuss the book on 97.7 ACK FM, Nantucket Radio!
Praise for The Card People from young readers:
"The Card People is a wonderful book, filled with action, adventure, betrayal, heartwarming moments, brotherly love, oh-my-gosh-I-can't-believe-that-just-happened scenes, laugh-out-loud scenes, and some romance." —Luci
"It is the first in the series, and is sure to be an instant best-seller. There are many twists, mysteries, and surprises around every corner! This book would be great for people grades 4–8, but also for high-schoolers and adults too!" —Sophie
"I think that someday, this book (or should I say these books) will be passed around for generations to come. I love the characters, the plot, just the whole book!"—Skyler
"Sulzer's new novel is a captivating and interesting read that will keep you on the edge of your seat from beginning to end. A royal flush!!" —Nathaniel
"The book can be read by both boys and girls and equally loved. This book is another version of The Indian in the Cupboard but has more depth. The story is as much about a family crisis as it is about a science experiment that went terribly wrong." —Mia
"The Card People is a fantastic amazingly stupendous book by James Sulzer ... This story is about a deck of cards that comes to life and changes the life of Paul, Nim, Sam, and Lex forever, as in danger, adventure, and twists in the plot. I would give this book a 5 out of 5 star review." —Antoine
Updating...