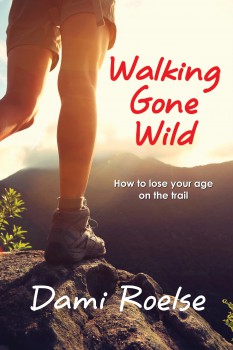 $14.99
$5.99
$5.99
By Dami Roelse
This fact-filled book promotes walking, hiking, and backpacking as a way to reinvigorate life for women as they age. The book is sprinkled with stories of real women who build confidence through walking, exemplifying a new model of aging with vitality, grace, and a deep connection to life. Roelse covers the how-to of overcoming obstacles to developing a walking lifestyle. She also offers chapters on outfitting, training, and preparing for hiking and backpacking. Informative sections alternate with exciting and inspiring passages from her personal trail journal. Even though the book is directed at women 50-plus, any woman (and man) interested in developing a walking lifestyle can benefit from reading this book and learning about the road ahead.
Reviews
"Dynamic agers everywhere should read this book ... and get moving!"
—Katy Bowman, bestselling author of Dynamic Aging and Move Your DNA
"This is a well-written, concise, and smart guide for anyone preparing to walk or hike. Short chapters lead the reader through the reasons for walking at all, taking local walks, doing longer day hikes, and then planning for safe and enjoyable long-distance backpacking. The author includes tips on clothing, shoes, equipment, food, training, and safety. The reader can decide how active she wants to be and on what schedule. This is essential reading for women over 50 seeking a more active lifestyle (and men could benefit from it as well!)."
—E.J. Stann, Appalachian Trail 2000-miler, AT maintainer, and Camino de Santiago pilgrim
"Dami Roelse's love for the simple act of walking will inspire you to set out—for a stroll, a hike, or maybe even a hiking journey. Blending anecdotes, trail musings, and step-by-step instructions, her book is a glorious and effective invitation to join her. She clearly has led many a non-walker out onto the trail, has recovered from missteps, and has savored the delight of newly found vistas. If you have hiked in the past, you will remember why you loved it. If you have not been a walker or hiker, Walking Gone Wild may be your first irresistible invitation to saunter out."
—Deborah Gordon, MD
"Dami's book inspires me to get back on the trail. Her musings create wonderful pictures in my mind and the practical information grounds me. My 'inner saunterer' is pushing me out the door for a hike."
—Dr. Valeria Breiten, naturopathic physician and author of Natural Healthy at Home
"I like the easy-to-follow training schedules, practical advice on preparation, and the genuine love that Dami has for movement in general. This book is going to make you want to experience the same."
—Leslie Black, PT, Medford, Oregon
Updating...