The Voice at the Door
The Voice at the Door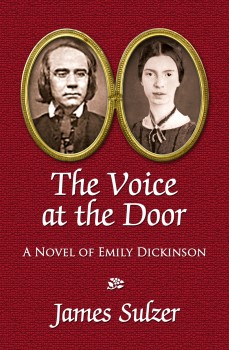 $13.95
$9.99
$9.99
by James Sulzer
The Voice at the Door recreates the fateful meeting of Emily Dickinson with the famous Philadelphia pastor Charles Wadsworth.  The fictional account weaves the letters and poems of this iconic American writer into a rich tapestry of intellectual and spiritual communion.  It encompasses the three great mysteries of Emily Dickinson's life: her agonized love poetry of the early 1860s, her partial blindness from 1863 to 1865, and her subsequent withdrawal from the world.
Read the review in The Emily Dickinson International Society Bulletin!
Praise for The Voice at the Door:
"Well written" ... "startling" ... "provocative" ... "a kind of bombshell"
–The Emily Dickinson International Society
"James Sulzer has written both a brilliant little gem of a novel and a fascinating work of literary criticism. I read this book in one sitting, enthralled by its quiet, powerful prose and its almost preternatural evocation of a living breathing Emily Dickinson."
–Nathaniel Philbrick, winner of the National Book Award, author of In the Heart of the Sea and Bunker Hill
"The Voice at the Door is an ingenious answer to the puzzle of Emily Dickinson's solitude and a realistic yet graceful portrayal of her life. James Sulzer's prose is elegant and clever. I think Emily Dickinson would have liked this book. I'm sure all her admirers will, too."
–Nancy Thayer, author of Island Girls
Updating...