The Card People 2: Identity Swap
The Card People 2: Identity Swap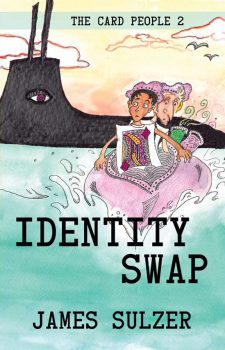 $12.99
$4.99
$4.99
by James Sulzer
The Card People trilogy of middle-grade adventure novels by Nantucket author James Sulzer rivets young readers with its vibrant blend of science fiction and the challenges of coming of age in a diverse world.
In Part 1 of The Card People trilogy, The Scissors of Fate, Samir Kapadia, a computer genius originally from India, disappears from MIT. Soon after, Samir's son Paul finds a deck of cards that can move and speak, thanks to Samir's astounding creation, a life-giving nanodust. But nanodust in the wrong hands can be used to kill. With the help of the resourceful card people, Paul and his younger brother Sam discover that someone is after the nanodust in order to create weapons of mass destruction.
Part 2 reveals Paul's plan: he will locate his father's stash of nanodust, which will enable him to trade bodies with one of the card people. Downsized, he will be better able to obstruct a deadly plan to nanimate a nuclear submarine. But can Paul and the Jack of Hearts disable the submarine before it can launch a deadly attack on the United States?
In The Card People 2: Identity Swap, Paul Kapadia must navigate the complexities of personal relationships as well as confront the dangers of nanotechnology on a national scale, where greed trumps goodness.
The Card People 1 and 2 chart a journey into the unknown, deciphering mysterious acronyms and anonymous emails, and dramatizing the possibilities of nanotechnology with exciting clarity. Both books are accompanied by an extensive Readers Guide and Study Guide, which open topics from "new life-forms" to "the importance of friendship" to "people who are seen as different."
Reader reviews
"Mr. Sulzer has done it again, another stunning read. The Card People 2: Identity Swap is an exciting new read that will have readers eager for more. From exciting escapes from CIA agents to emotional tension between friends, Identity Swap will have readers clawing on the walls for the third part."
–Morgan
"A mysterious new, yet not-so-new, character appears: Amra, a young woman straight from India ... can there be a connection between the Kapadias and Amra? The answer, which readers find in the middle of the book, is very surprising! I think Mr. Sulzer is a GREAT writer and I enjoyed the book very much!"
–Caillean
Updating...