Out of the Blue Valise
Out of the Blue Valise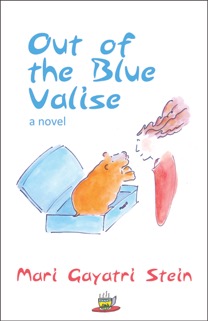 $14.95
$5.99
$5.99
Imagine an encounter between Alice in Wonderland and Winnie the Pooh at a twelve-step meeting, and you may approximate the tone and flavor of Mari Gayatri Stein's debut novel Out of the Blue Valise, an unusual, category-defying work of fiction, in which stories proliferate within their enclosing frame.
When author Mila receives a diagnosis of cancer, she begins to feel her vital creative spirit slipping away. Enter Po, a hippopotamus with magical powers, who rescues her by inspiring a brand new narrative. Out of the Blue Valise travels from Oregon to Malibu, Paris to Africa, unpacking such delights as a Hollywood artist sober on AA; a lovable red-and-white zebra; twin can-do British aristocrats; and a supersized villain you will love to hate.
Sign on for this marvelous journey of whimsy and pathos, humor and heart, as Mila writes for her life.
Click HERE to listen to "A Smile," an original song from the book that appears on pages 220-223! Credit: Po and Mari Gayatri Stein (lyrics) and Chris Bennett (music and voice)
Listen to Mari's interview with Aletha Nowitzky on KSKQ 89.5 FM, Ashland Community Radio.
Reviews:
"Out of the Blue Valise is a beautifully written novel that takes the reader on a powerful journey of the heart. Part fantasy, part spiritual expedition, this story conveys the fullness of the experiences present in facing one's own mortality."
Sharon Salzberg—Lovingkindness and Real Happiness
"Hippos shrink, zebras speak French, and love heals all wounds in Stein's debut novel ... Just the right balance between humor and pathos, the narrator's voice has a confidence that feels no need to explain itself, and the characters are alive with wit and ... wisdom. A delightful jumble of jungle creatures, two-legged and four-legged alike."
Kirkus Reviews
"A tale of magical realism so wonderfully creative and true that I want to shout to all my friends, devour this now! Combining whimsy with wisdom, magic with grit, joy with the struggle to survive, this story of Po the Hippo and Petal, the passionately chimerical woman who acts as her mentor and fellow pilgrim, will keep you riveted far beyond the moment you turn the last page."
Jake Warner—co-founder, Nolo Press; author, Coming of Age in Berkeley
"A soaring testament to the healing powers of creativity and imagination—for both reader and writer. Mari Stein renders with the simplest of strokes such a vast array of expression and feeling. I literally could not put this novel down, and even now can't stop contemplating possible Po-etic mantras for a next adventure."
Toni Ihara—author, Murder on the Air
"A fable and a fairy tale for grown-ups, full of wit, adventure, and charm.... There are life lessons in this book and though entirely unique, its impact is comparable to The Little Prince and Jonathan Livingston Seagull. "
Sheila Burns—proprietor, Bloomsbury Books
"A fulfilling, delightful, soul-searching story that works on multiple levels to touch the heart. Out of the Blue Valise holds in its pages a sense of powerful truth and vibrant imagination."
Barbara Baird—former journalist, The Los Angeles Times
"Swoop, dive, and hover over the mysterious intersection of fear, despair, whimsy, strength, and beauty! This book lives on a multitude of visceral levels, and I find myself returning to this passage and that for the sheer joy of them."
Laurie Levin—You Can't Hurry Love and Creative Weddings
"Author and illustrator Mari Gayatri Stein creates a special language studded with pearls of wisdom culled from the Twelve-Step program to tell this unique story of 'getting there without going.' As Mila heals from cancer via her imagination and inner strength, she crafts a delicious prescription for that which gets us through the unthinkable. This book is a brave and hopeful work of art, not to mention great fun."
Claire Fullerton—author, Dancing to an Irish Reel and A Portal in Time
Updating...