Leaving Tuscaloosa
Leaving Tuscaloosa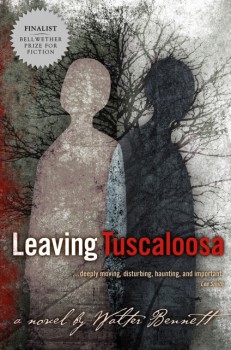 $16.95
$4.99
$4.99
Imagine Alabama, the sultry summer of 1962–the year before Bull Connor turned his fire hoses on civil rights protesters in Birmingham and the Klan bombed the 16th Street Baptist Church. Two young men, one white, one black, stumble into their destinies as the world erupts beneath their feet.
Richeboux Branscomb's journey begins with a stupid mistake one night in a rattletrap Ford on a dusty road. Acee Waites' begins with a missing brother and a ruthless sheriff's search party. Propelled along separate tracks through thirty-six hours of racial turmoil, these estranged boyhood friends encounter tenderness and cruelty, erotic passion and murderous rage. Then amid the spreading fires of racial violence, their paths converge in a terrible, riveting climax.
Praise for Leaving Tuscaloosa:
"Walter Bennett has a real gift for capturing time and place and an absolute genius for creating his larger-than-life yet totally believable characters. Leaving Tuscaloosa is deeply moving, disturbing, haunting, and important."
—Lee Smith, On Agate Hill, The Last Girls
"Leaving Tuscaloosa is all story. The characters are terrific, the setting authentic. From the moment some teenage white boys are involved in a prank that kills a respected member of the black community, the book is unstoppable. Compelling, important, and haunting."
—Craig Nova, The Good Son, Cruisers
"Walter Bennett skillfully reawakens those days when segregation/integration seemed the core problem of the world. Rich character development and strong scenes of action make this novel an absorbing experience for the reader, whether Southern or not."
—Elizabeth Spencer, The Southern Woman, The Light in the Piazza
"Like Isabel Wilkerson's prizewinning The Warmth of Other Suns, Leaving Tuscaloosa [recalls] that horrific era that led to the migration of thousands of African Americans out of the Deep South. This book should have a spot on college reading lists.... A work of finely crafted fiction."
—Georgann Eubanks, Literary Trails of North Carolina
"A cliff-hanger cut from real historical drama, this story walks you into the sounds, sights, racial fears, and tensions between the dual worlds of blacks and whites. Civil rights history comes across in a gripping way in Leaving Tuscaloosa."
—Dr. Karyn Trader-Leigh, Diversity Consultant, KTA Global Partners, LLC
Updating...