Fuze Publishing is a boutique press committed to well-crafted storytelling that crosses cultures and has the power to educate and change minds.
Announcing the WINNERS of the
Fuze Teen Poetry Contest!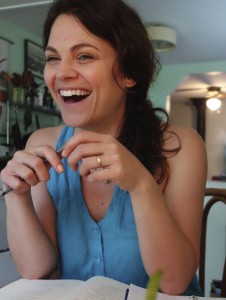 The moment has finally arrived! Our poetry contest for students in grades 9 through 12, ages 14 through 18, has come to a close, and we were simply blown away by the response. We received a mountain of entries from all over the country and were deeply impressed with the incredible work that was submitted. Entries were judged by our fabulous guest judge, Meghan Sterling (pictured here), a talented poet and teacher who resides in North Carolina. In addition, we had a thoughtful teen panel who reviewed the work and chose their favorites as well (more on that next week)!
Meghan explained her criteria thus: "I was looking for fresh language (no cliches), a strong sense of form, and a unique and inventive style. A smooth rhythm, imagery that felt original to the author's vision. Poems that would make me pause. These three poems did just that."
The first-, second-, and third-place winners will receive gift cards and Fuze books. In addition to being featured here on our website, their work will be included in our newsletter and highlighted on our Facebook page.
And now, the results!​ Thank you to all who entered, and congratulations to the winners!
FIRST PLACE
"Traveler of the universe" by Paige Myers, grade 11
Meghan says, "This is a very inventive prose poem with fresh structure and language. It takes the sentence structure and shifts it, varying effectively from incomplete sentences to run-on—a sophisticated prose poem technique. The imagery is focused and it flows beautifully."
Paige says, "Thank you, I am so excited that my poem was chosen by Fuze Publishing. I believe that poetry is the art of expression though visual representation; it's a way that paints a picture in your and other people's minds without having to have the picture itself. That to me is the best part of poetry, being able to write a poem that can give each reader their own personal image of the poem."
Traveler of the universe:
We'll choose the way to the forest. I am who wanders; drifts between old leaf and toadstools like brittle and small butterflies, to whom offers stars. Colours come and go like petals of youth; who's afraid of death, dying one life and will rest upon life lifted my mind. As we now pass through the foliage aware of the sacred truth unfurled. Feeling of wisdom in life colliding through the light flew. Whispering dreams as wind, rain, and leaves stir the valley; a bird flies like a face of a poet which is a flower. Stars and planets heard until the smalling world became absurd. Travel beyond any experience open petal by petal when the heart of this flower is breathing with animals. Stars wonder the moon's utmost magic. For i am the traveler of the universe.
SECOND PLACE
Poem by Molly Dorgan, grade 10
Meghan says, "Deceivingly simple, this is an elegant poem with a light-as-a-feather structure that uses simplicity of image and language to get its powerful message across."
Molly says, "I am so honored and excited to hear the news!"
i was taught
that bones
were only beautiful
when they pressed
against
papery flesh
(my daughters will be taught)
that bones
are beautiful
because they protect
our hearts
our minds
protect
the air we breathe
and the words
that have yet to be said
– teaching
THIRD PLACE
"Maybe" by Angie Wright, grade 11
Meghan says, "This poem has a powerful, rhythmic spoken-word style. Effective use of repetition and occasional couplets show a strong love of language and a musical gift for meter and rhythm."
Maybe
Maybe we should try growing in love instead of falling in it
Or
Maybe alone is where she belongs
You see
Cause you gotta recognize your worth before you give it away and not to someone who
deserves minimum wage
And sometimes
I wish i could get a refund for all the feelings i deposited
Cause maybe
He just couldn't afford to love her
You see
We seem to fall in love with broken things;
Like broken people hoping to fix their broken wings
Cause we tend to find pieces of ourselves in them
And She wore wounds like badges
I was fascinated by her heart's ability to make itself whole again whenever a piece of it left
She is an ocean of love;
She came in waves
And sometimes her waves were too strong for you
But you seemed happy with this natural disaster
She was your earthquake
You fell in love with the way she made your ground shake
But maybe she just didn't fit your description of destruction
And maybe we should never confuse chemistry with energy
Although love can liberate your mind
Anybody can generate some lies to penetrate your thighs
An mama told her not to put her flowers in a broken vase
She was a rose growing from concrete
But she was addicted to his distraction of attraction
Looking in his eyes made her high
She overdosed with every puff he took from her
With merely
Every kiss of cocaine and every breath of heroin he placed on her
He was more than just a drug dealer of toxic love
Even El chapo had nothing on him
Or maybe
Just maybe
He was a blessing of a lesson
Cause you know some people come along for us just to learn a lesson through
Sent by God
Or maybe it's math that makes love so difficult
Cause after all
It was her least favorite subject
Love should be multiplied by one not divided by two
And maybe she didn't learn the first time
So God gave them a second chance
He was a test she learned to pass
Cause you know the lesson
Fool me once shame on you
Fool me twice shame on me
Fool me three became a concept she understood more than just from singing J cole's lyrics
Cause I know just like her
That its not the goodbyes that hurt but the flashbacks that follow
How we get tempted by temptation to open a door God closed for a reason
Maybe it's time to let go of that key and pick up a new one
But don't forget the value of a moment because soon it'll just a memory
And although there aint no such thing as perfect time
There's a higher power that we answer to and time heals everything
Even if healing is a long procedure
And maybe they just met at the wrong time
Or maybe love should be naive instead of blind
Or maybe she's just fed up with his lies
Or maybe it's time to break those ties
Or maybe it's time to get your wings back and fly
Or maybe it's just hard to say goodbye
Or maybe she should just let go and let love die
Or maybe alone is where she belongs
Or maybe that's all it is
Is maybe
I don't know
Maybe