Fuze Publishing is a boutique press committed to well-crafted storytelling that crosses cultures and has the power to educate and change minds.

Mari Gayatri Stein,
author of Out of the Blue Valise
Prolific author & illustrator takes us on a marvelous journey of whimsy & pathos, humor & heart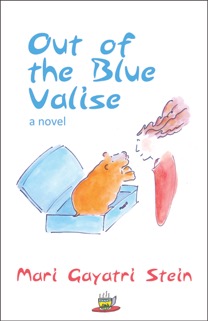 Imagine an encounter between Alice in Wonderland and Winnie the Pooh at a twelve-step meeting, and you may approximate the tone and flavor of Mari Gayatri Stein's unusual, category-defying debut novel, in which stories proliferate within their enclosing frame.
When author Mila receives a diagnosis of cancer, she begins to feel her vital creative spirit slipping away. Enter Po, a hippopotamus with magical powers, who rescues her by inspiring a brand new narrative. Out of the Blue Valise travels from Oregon to Malibu, Paris to Africa, unpacking such delights as a Hollywood artist sober on AA; a lovable red-and-white zebra; twin can-do British aristocrats; and a supersized villain you will love to hate.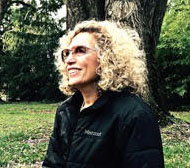 Former actress Mari Gayatri Stein traded her hometown of Hollywood for an artist's vocation in the mountains of Oregon. From the organic farm she shares with her husband and two rescue dogs, she has authored ten books, illustrated countless more, and contributed regular articles to such publications as Inquiring Mind, Tea Magazine, and Healing Garden Journal. Her fine art has been displayed in galleries nationwide. She is a popular practitioner and teacher of meditation and yoga and a devoted mentor for women in recovery. Out of the Blue Valise is her eleventh book and debut novel.
Praise for Out of the Blue Valise:
"Out of the Blue Valise is a beautifully written novel that takes the reader on a powerful journey of the heart. Part fantasy, part spiritual expedition, this story conveys the fullness of the experiences present in facing one's own mortality."
Sharon Salzberg—Lovingkindness and Real Happiness
"Hippos shrink, zebras speak French, and love heals all wounds in Stein's debut novel … Just the right balance between humor and pathos, the narrator's voice has a confidence that feels no need to explain itself, and the characters are alive with wit and … wisdom. A delightful jumble of jungle creatures, two-legged and four-legged alike."
Kirkus Reviews
"A tale of magical realism so wonderfully creative and true that I want to shout to all my friends,devour this now! Combining whimsy with wisdom, magic with grit, joy with the struggle to survive, this story of Po the Hippo and Petal, the passionately chimerical woman who acts as her mentor and fellow pilgrim, will keep you riveted far beyond the moment you turn the last page."
Jake Warner—co-founder, Nolo Press; author, Coming of Age in Berkeley